5 Ways to treat your Mother at Bump 'n Grind!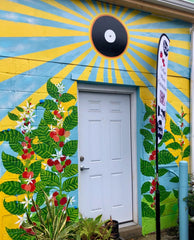 Sunday, May 8th, is Mother's Day! Bump 'n Grind is honoring all the hard-working Mother's by offering a 20% at our cafe and pop ups all weekend long. Without all the Mommas out there, this world is an empty place. Make sure the leading nurturer in your family gets recognized with some Bump 'n Grind love this weekend. This week's Liner Notes gives 5 ways to Thank Your Mama at Bump 'n Grind! The discount applies at our cafe in Silver Spring Library (900 Wayne Avenue, Silver Spring,) as well our Pop Up Stand (4120 Howard Ave) in Kensington, MD. 
1. Coffee in Bed! 
Open at 8am, hop on over to the Silver Spring Library on Sunday morning, and grab a fresh cup of Mixtape or a special Rocketman espresso drink from our Cafe. Fresh pastries or a bagel can give your Mom that jolt she needs to enjoy her day without fuss and frustration. We have a complete coffee menu, with various blends and single-origins to try as well. If Kensington, MD is closer, our Pop Up stand opens at 9:30am. 
2. Sign them up for a Single-Origin Subscription!
Mothers offer their love through their everyday actions and performance. They need a good cup of coffee each morning to get them ready to seize the day. With all the responsibilities they have to carry, they don't often get to travel and explore the way they often deserve. Coffee-drinking can be an adventure too! Our Single-Origin Subscription offers the opportunity to try beans from all over the world, each with a fascinating story and provenance. You can receive beans weekly, bi-weekly, or monthly. Each represents Bump 'n Grind's commitment to providing a  "conscientious cup" of coffee. Whether on the go, or accompanied with a moment of peace, these Bump 'n Grind beans are delivered right to your Mother's doorstep!
3. Nothing says love like MUSIC
Our record crates are full of nostalgic classics, odes to Motherhood, Mom songs, and more. With listening stations at both our Cafe at Silver Spring Library and the Pop Up Stand, you can find the perfect song for your mother on one of our vinyl records. Records are included in the 20% discount for moms this Weekend! Even more, 'you can buy her an exclusive Bump 'n Grind Wax release, our latest refix of the classic Al Green song, "Let's Stay Together" by RSD and Denise Morgan on 7" vinyl is a can't miss option. 
4. Bump 'n Grind Swag
Our Cafe and Pop Up Stand are well stocked with the latest and greatest Bump 'n Grind merch, including coffee mugs, canisters, and thermoses. These are wonderful vehicles for our mighty coffee. Your mother will also continue to receive discounts at Bump 'n Grind, as we offer refills and lower-prices on beans if you use our eco-minded products!
5. Let her choose for herself!
Give Mom the freedom to choose for herself. She spends most days making decisions for the benefit of others, let her make a choice that makes her happiest! Bump 'n Grind offers Gift Cards of varying amounts. These can be used for any of the items we sell in our locations and online shop. 
Whatever you decide, Bump 'n Grind wants to send a heartfelt thank you to everyone who represents a "Mother" for someone out there. Without you, we would not be able to be the small business and community that we are.