A Look Back at Our First Roasted Batch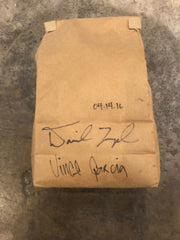 This week's Liner Notes looks back at the first batch of Bump 'n Grind roasted coffee!
Bump 'n Grind is entering into a new chapter with the start of our Analog Market at 923 Gist Ave. Since our flagship store at 1200 East-West Highway closed its doors during the pandemic, we have been actively looking for a location that will become our "forever" home. There is still a lot of work to be done, but it is exciting to see the blooming of new ideas and fresh imaginations as we begin to plan for our next cafe and hangout in Downtown Silver Spring.
The First B 'n G at 1200 East-West Highway
All this looking forward makes us nostalgic about how far Bump 'n Grind has come from being a nascent idea about creating a place for community, music, and coffee in Silver Spring, to roasting gourmet coffee from around the world, and now operating several outpost cafes, offering a complete wholesale coffee catalog, and organizing a weekly vintage and vinyl market showcasing amazing small businesses in the DMV! 
In 2016, it became clear in Bump 'n Grind's early days as a cafe that roasting our own coffee was the only logical direction of growth. At the time, we were serving delicious espresso and beans from our friends at Vigilante Co and Ceremony, while learning from other companies about their roasting processes, scalability, and diving-deep into the intricacies of crafting the perfect cup. 
In April of '16, head honcho, David Fogel, teamed up with long-time customer and coffee enthusiast, Vince Garcia, to acquire our first roaster and start dialing in our first signature roast profile. David explains, "before I opened B 'n G, I knew I eventually wanted to incorporate roasting. Mainly to dig deeper in the process, and be more connected with our main product, and the communities that produce it." It was imperative for the Bump 'n Grind vision that we could have more of a direct and active  role in our position as stewards bringing "conscientious" beans from around the world, roasting them to our unique and desired tastes, and sharing them with our local communities.  
Our first small-batch was on a Mill City 2KG roaster at our original warehouse on Brookville Rd. A spiffy, brightly painted little machine, it has been affectionately dubbed our "Little Red Corvette." It took a few months to dial in our blends, eventually working with Vince to create Mixtape, our first signature! Our Little Red Corvette is now roasting our sample batches at our Roastery in Kensington, MD, still an integral part in our roasting processes and bringing exceptional coffee to our customers in the DC area.  If you find yourself at our pop-up shop at the Roastery on 4120 Howard Ave, make sure to snap a photo of our snazzy Red roaster! She built the foundation for what is to come with Bump 'n Grind Coffee and Records!