An Analog Life: Cowealtha Clay shares his passion for Music, Art, and Vinyl!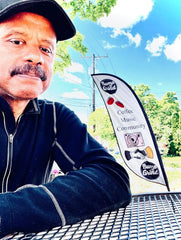 If you have been around Analog Market over the past 12 months, it's likely you've encountered this bright soul around the place. Whether he is playing deep and meaningful jazz, reviewing scripts, or waxing poetic about the spirit of art and life, Clayton Lebouef -- musically expressed as Cowealtha Clay -- is a welcomed force in these parts. His vinyl selections are equally-nostalgic and futuristic. It's a pleasure to have him grace the decks at our humble shop at 923 Gist Ave in Downtown Silver Spring. 
As we enter into our second year of operation at Analog Market, it's important for us to share the voices that have helped shape our musical and creative direction as a third space for our local community. Cowealtha Clay has been an active part of our development, sharing his insights and art, playing monthly for our vinyl sessions, and welcoming new faces into our ever-changing space. Widely-recognized for his role as Orlando on HBO's The Wire, Clayton has also received critical-appreciation for writing the play RS/24, a love story about a 24-hour record shop. His reverence for vinyl and analog culture radiates with an appreciation for slowing down and enjoying meaningful conversation and story-telling. 
We took the time to ask Cowealtha what makes their "Analog Life" tick, how they become inspired by music, and what gives them excitement as they explore and expand their record collections. Cowealtha Clay holds down the B 'n G Wax record shop every first Saturday of the month. Come stop in and enjoy his cosmic tunes. 
What's the foundation of your record collection? Why?
Simply stated, the foundation of my collection is Black Music. Recordings from artists whose music/songs weave in/out of the Soul, R&B, Disco,Jazz, categories.
What do you look for when you buy records?
 I've always searched adventurously. Meaning I don't usually look for records/songs I've heard. Those are essential items on the grocery list. When I'm looking, I flip-dig thru record store bins and let my mood/curiosity take over. Ya' know, studying the album cover photos, artwork, production credits, date of release. All that leads me to purchase.
What do you like about sharing music at Analog Market?
I've shared music in many spaces. Spinning at The Analog Market has been the most unique experience. What I like best is the atmosphere, speaking w/the vendors and patrons while I'm spinning and afterwards over some B&G signature coffee. I like the balance of art placement in market. The items for sale and the indoor/outdoor capacity for creativity. Shout out to Mojomala!
Where are you from, how'd you end up in the DMV?
I was born in Yonkers, NY.  Came to the DMV in the early 70's to learn about family and check out the theater arts scene I read/heard about. (DC Black Repertory Theater, Arena Stage)    
Who are some of your current favorite artists and record labels?
Current favorites... M.E.B, Idris Ackamore & The Pyramids, The Cinematic Orchestra, Seinabo Sey, Kandace Springs, Dwight Trible...and many more
Record Labels: Blue Note, International Anthem, Bump'n Grind Wax, Legacy ..and many more
What are some of your other passions?

Theater Arts / Creating works for the stage & screen; Singing/Vocal expression; Books/Magazines; Movies/Film; Ikebana; Seafood
What does community mean to you?
At this time, community means global awareness to me. Because of technology local is world wide.So, for me, sharing possessions & responsibilities to benefit the planet, is to commune.
Where else are you playing your records?
Other than home, I'm playing records exclusively @AnalogMarket
Anything else you'd like to share with our community?

 Yes! Music Is The Healing Force Of The World!   
Have a listen to one of Cowealtha Clay's cosmic voyages through sound on our Mixcloud Page!