An Analog Life: RWEONTHEAIR?!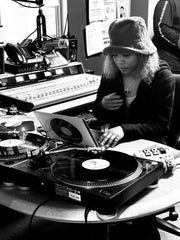 We are fortunate when enthusiastic people come into the Bump 'n Grind community and share what inspires them. Multi-talented artist, vinyl collector, educator, and analog activist, Benay L. Walker, is a bolt of creative energy throughout the DMV. As a DJ, RWEONTHEAIR?!, creates meaningful sonic moments with an eclectic curation of genres and tempos. As a radio host, vinyl educator, and resident DJ at Analog Market, RWEONTHEAIR?! is a champion for building a relationship with communities through musical expression and discovery. Benay took the time to answer a few questions about her vinyl collecting quests, sharing what makes her excited about finding records and playing them for a wider audience. 
Foilow Benay - RWEONTHEAIR?!
Music IG: @rweontheair
Art IG: @BLingual
Take a listen to RWEONTHEAIR?!'s first recording with Bump 'n Grind back in June of 2022!
What's the foundation of your record collection? Why?
Foundation: The records that choose to graciously appear in my life guide my collection. I definitely listen to a lot of music, and as I curate, I like to hit different sweet spots of sound. Everyone in the room deserves to have their moment to be lost in the music. I love when I see the folks you'd least expect to respond react the most. It's an electrifying experience, especially when I am able to present that musical/spiritual connection in an analog style. I am humbled that most records have been gifted to me, more than those I have dug and collected in my 20's so far! 
Why: I honestly can not pinpoint when I started collecting vinyl records full-out, but I can share this significant beginning story: A few years ago, a beloved local shop-owner in my neighborhood was in the ending phase of changing over their business storefront to a new passion. They had been continuously asking me to stop by to see if I wanted any remaining vintage things (I was not purchasing music from them at this time; more so things like glass, objects, and artisan things for my murals). One day, they saw me leaving my former art studio and flagged me down in urgency. I decided to go over and was greeted with a speech on why I needed to come sooner lol. They gave me this huge green suitcase (one of my favorite shades ironically) FULL of rare 45 records. I was puzzled; they were all like "you needed to come earlier!!  [angry older person frown lol] I had more sitting but hagglers kept coming so I gave them up. But these Benay, I saved for you". So, I look in and am happy but overwhelmed, and I thank them & begin to haul this heavy thing with my art bag. Maybe 4-6 weeks later some Technics found me and the vinyl part of me is history. 
What do you look for when you buy records?
What do you like about sharing music at Analog Market?
I can be myself. Well, I do that anyway. But there it's a very genuine space to come as you are, as you were... #1 rule at the market: DON'T judge a sleeve or anyone/thing there by first thought. Let your mind settle on whatever it is that caught your attention there, and then go towards it - listen. Enjoy and thank me later with an elixir tea & a pastry pls ;) 
Where are you from, how'd you end up in the DMV?
I'm from DC! I have lived around MD/DC and a few places abroad. DC will always be home, but I will flow away and always come back to Chocolate City! 
Who are some of your current favorite artists and record labels?
Current favorite artists: Donald Byrd, Flying Lotus, Hiatus Kaiyote, Moonchild, Betty Davis, Masters At Work, Gangsta Boo R.I.P L.L.LOLA, DJ Leonce, DJ Hunnybee, 4Hero, & listening to any artists chopped and screwed style. I love the down south sound!!  
Record Labels: Blue Note, Polydor, Ninja Tune, Atlantic, Awesome Sound Wave (ASW), Return Records Inc., Young Art Records, Bump n Grind records, and any underground/local labels!!!! 
What are some of your other passions?
I'm an Arabic Calligraphy muralist so I enjoy glossing my eyes over all types of text. There's always an idea in my head of how I can turn a picture into text. I also enjoy preparing excellent meals (mostly for myself, but sometimes large meals too). Visiting new places with water, and I also just like to be quiet sometimes…and listen…
What does community mean to you?
Doing right by others, and cheerfully giving when you have it, and can do so without depleting yourself. Simple. Community is an "ecosystem" that business, family, public servants and whatever other unique elements instill change and give regulated support of monies, food, and other resources to each other (the "community dollar"). These people that make up the community don't have to be from the same places & spaces, community is even stronger when the people are from all walks of life. Community is when you recognize you are around like-minded people who want to work to improve shared living experiences. Community is when you maybe don't like your neighbor but you make sure you watch their kids get on and off the bus safely. Community is giving the next generation you see every day things to feed their hobbies and make them stronger and inspired adults. Community is hosting a block party and the patrons show up and pitch in!! 
Where else are you playing your records?
I'm Blessed to be a few places: 
- Every Tuesday evening 8-10pm EST with my co-hosts on Soul Conversations Radio, WPFW 89.3 FM Pacifica Foundation INC., Washington D.C.
- Allegory DC, Speakeasy inside  Eaton Hotel, Vinyl DJ Resident (rotating dates). 
- I teach Vinyl Masterclasses at Girls Global Academy DC SY 2023-2024 and with supporting local/national venue partners. 
- Every 1st Saturday of the month, resident Vinyl Records & Care Kit Vendor, 14th Street Graffiti Museum with Chocolate City Rocks 10am - 3pm.  
- Monthly "Something Like An Open Mic" events with the coolest mic killa, Lef? with Events on U St.
- Occasionally at Eaton Workshop's DC Record Fairs.
- Mount Rainier Porch Coffee Pop-up's with my friends! @porchcoffeepopup (on IG). 
Anything else you'd like to share with our community?
Be steadfast in learning by yourself. It will save you from others attempting to tell you who you are. If you love something, eccentric as it may be, go to it. There is something waiting for you to uncover about...you. I'd like to thank BNG for all the encouragement & support. BIG s/o to David Fogel, Diego, Rhôme -The Vibe Conductor, Ella, and all the other parts of the BNG family. Salute always for your recognition. 
Benay L. Walker
…RWEONTHEAIR?!