Analog Market is Now Open Thursday - Sunday!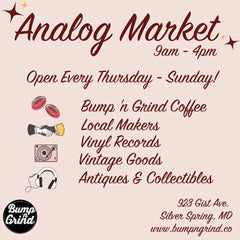 Bump 'n Grind cements Analog Market as a Flagship location!
Our little "vintage, vinyl, coffee co-op" is turning a new leaf. Starting on January 12th, Analog Market will be open from 9am - 4pm from Thursday to Sunday!  We are expanding the offerings of our Bump 'n Grind Coffee bar, welcoming more funky small businesses into our mid-century home, and increasing the programming of our cozy confines. B 'n G and crew are actively improving Analog Market to appeal to a diverse range of interests with interesting community programming, eclectic musical selectors, and engaging curiosities for all-ages. 
We invite our community to enjoy the music and magic of having a space to gather, create, and be present together around a fire, sound system, or craft table. The small businesses calling 923 Gist home are currently Mojomala, Narrow Passage Store, Bump 'n Grind Wax, and Pete's Train Emporium.
The newest additions to the flock:
Oaty Goaty Soap Co:  a women-operated, ethical goat-milk soap company based in MD.
Candles with Attitude: hand-poured and molded candles with inspired scents for the "culture." 
Pin Wheel Clay: a women-of-color owned business that handcrafts small batches of polymer clay jewelry that offers unique, colorful, and playful designs.
Jen Pape Design Studios:  Hand-formed, powder-paint dipped earrings with forms inspired by meditative practices of contemplation and the occult!
Lava Zine Press: locally-printed "volcanically weird zines" and humor mags.
Hello Herren: Hello Herren is a small, AAPI and woman-owned business based in Washington, DC specializing in quirky and humorous stationary, stickers, and gift cards. All items are personally drawn by the founder, Helen Li. 
Chase Love & Retro Fits: Retro and Vintage clothing, $10 curated vintage tee rack, decoupage art, resin jewelry.
Flax Flannel: Lightly-loved clothing, new items added regularly to the rack!
James Woo Art: Absurdist and ironic humor graphic illustrations, embroidery, and sticker packs!
Kris "Klumz" Nguyen Tattoo Studio: Cozy second-floor tattoo studio, taking new clients now!