Funk by the Ounce: PPU x Bump 'n Grind Coffee Experience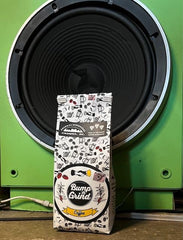 Bump 'n Grind is always exploring ways to collaborate and give shine to record labels and small businesses that inspire our own mission and purpose as a brand. We've teamed up with PPU (People's Party Unlimited) to release a limited time coffee, "Funk by the Ounce." This specialty blend incorporates Brazilian- Medium Roast and Guatemalan - Light Roast beans. The combination of beans creating a sumptuous blend of chocolate, cinnamon, nutmeg, allspice, and juicy fruit flavors. Perfect for an afternoon of crate-digging, or a morning after tearing up the dance-floor!
One of the DMV's most coveted record labels, PPU, specializes in both vinyl and digital releases of obscure funk, boogie, and raw dance-floor cuts. Run by Andrew Morgan out of Lexington Park, MD, the labels prominence has garnered global attention from DJs and vinyl enthusiasts for their eclectic catalogue and attention to soulful details. Andrew's online music and vintage store, Earcave, has similarly helped launch local artists and labels into collections and closets around the world. As their Soundcloud page proudly states, "PPU's is a world that re-imagines funk as outsider art and cosmic-boogie as a modern variant of folk music. What would it be like if your school janitor made rap music in the broom closet or if someone in middle management still nursed a dream of being the next El Debarge?" Andrew has prepared a signature mix from P.P.U on our Bump 'n Grind Mixcloud page in honor of the collaboration. Give it a listen! 
In 2020, we teamed up with NYC's "Let's Play House" Records, run by  B 'n G's dear friend and producer extraordinaire, Jacques Renault (check out his B 'n G Wax 7" Vinyl), to release an exclusive signature coffee blend, Jackin' House. This collaboration was born out of a desire to help musicians and record labels diversify their revenue stream. P.P.U receives a $1 for every bag sold and it helps them continue to spread/create amazing music!
Support Independent Record Labels and Coffee Shops.