Our Beans have a New Look!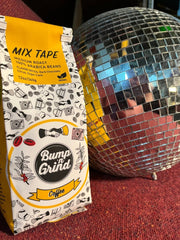 Our beans have a new look! Bump 'n Grind is excited to reveal the latest packaging for our beans hitting the retail shelves at your favorite grocery store, bakery, or BnG coffee partner!
As a small business, little improvements and refinements of product, packaging, and messaging are always important to the larger mission. As Bump 'n Grind continues to scale up and expand the market in which our gourmet roasted beans reach, our colorful and vibrant packaging will stand out on the shelf, as well as in your kitchen! Full of style, we want our beans to look as good as they taste!
Since Bump 'n Grind's inception, the company has placed a pride in hand-packaging and labeling all of the coffee that hits the shelves in the DC Metropolitan area. As the company continues to evolve and expand, our new, 100% recyclable packaging is able to tell the story of our brand, while providing more useful information to the customers that love our coffee.
For those looking for guidance on how to perfect each of your morning brews, every bag now has recommended preparation instructions, as well as a description on how each bean blend satisfies our "Conscientious Coffee" designation. The industry seals for each blend are included on the back of the packaging to guarantee an attention to sustainability, social justice, and environmental stewardship. 
The pillars of our mission, "Coffee, Music, and Community," are also represented in the fine details of packaging. 
While we love our new bags and are proud they are recyclable,
reducing waste is still one of the most important things that WE can do to help our planet. We encourage everyone to grab a
BnG Coffee Canister
!! Every time you refill it at our Roaster or Cafe, If you see these bright vessels of morning joy at your local grocery, you will get $2 off our retail coffee.
If you see these colorful beans around town, make sure to take a picture, grab a bag, and share with us on our Instagram!