New Release: BNG-005 - Jacques Renault's "That's What You Are" / "My Love is Guaranteed"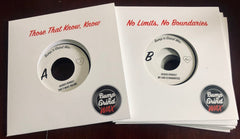 Where does the time fly?!
Since 2022 kicked off, Bump 'n Grind Wax has been active playing the music we love, building up the record store at Analog Market, and promoting our growing brand over the past couple months. Much of our efforts have been in anticipation for the arrival of our fifth 7" release from Jacques Renault. BNG-005 is a labor of love and patience, one subject to the numerous delays impacting the global vinyl record industry. We are happy to finally announce that our black wax shipment of BNG-005 has arrived stateside!
A well-known dance music producer and vinyl lover, Jacques Renault is a longtime comrade of the Bump 'n Grind family. His label, Let's Play House records, regularly churns out highly-sought after disco and house tracks and albums. Originally from the Washington, DC area, Jacques mentioned to us that his first memorable vinyl purchase, one from his days in middle school "...Fugazi's Repeater. Growing up in the DC area, they were the first big local band I loved and saw as much as I could. Brings back some fond memories of my Fort Reno days!"
Promo Vid for BNG - 005 A
For Bump 'n Grind Wax, Jacques shows off his affection for the baby-powered dance-floor on the A-side, "That's What You Are." A progressive tune that eventually leaves the listener swinging from a disco ball suspended from lush clouds overhead. Playful cymbals and guitar stabs decorate the sing-a-long hook, reminding us: WE are all diamond-drenched dancing fiends. He explains, "That's What You Are" is an adventure in sampling fun ha. I have too many records that I like a bit of this or that and enjoyed making this tune with a collage of what was on my plate!" 
Promo Vid for BNG-005 B 
Jacque's B-side edit of "My Love is Guaranteed" is a funky chokehold of a groove. A driving bassline of love leaves no doubt, Jacques blessed the deep cut diggers with a sly edit of Frozena Harris's "Lovetime Guarantee!" Jacques discovered this unheralded disco gem from the DMV, "while listening to one of my favorite DJs. I was instantly hooked and when I finally got my own copy I messed around editing with it a bit as I do for my own DJ purposes. Since it's never been on 45 I thought this take would be an excellent flip for our release!"
BNG-005 is full of versatility and positive energy!
Copies are available on our website and the Bump 'n Grind Wax Bandcamp. Purchase from one of our online shops, and supporters will receive a special taste of the Let's Play House x Bump 'n Grind Coffee "Jackin' House!" collaborative coffee blend, straight from the B 'n G Roastery in Kensington, MD!