Single Origin Feature: Uganda - Bujisu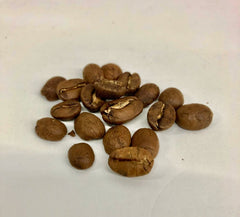 Bump 'n Grind is proud to be roasting select Single Origin coffee beans from our humble Roastery in Kensington, MD. Our Single Origin coffees are small-batched and micro-roasted to bring out the distinct character and complexities of our beans. We roast our small batches daily to ensure our customers receive the freshest, most flavorful product. The beans are selected from the highest grades for specialty coffee, performing at 85 or better according to the Specialty Coffee Association's 1-100 rating scale. This week, we are proud to be featuring the beautiful Uganda-Bujisu Single Origin roast at our pop-up coffee shop and cafe at Silver Spring Library. 
The story behind these beans are compelling, and Bump 'n Grind is proud to feature them as part of our efforts to bring "Conscientious Coffee" to the Washington, DC metro region. The word "Bugisu'' has a deep history and meaning. While on the map, it is a geographic region around the highlands of Mt. Elgon, it is also a proud term to describe a tribe, colonial politics, coffee, and even a soccer team. The title belongs to the Bugisu tribe, native to the mountain's northwestern districts and who, during the final years of British colonialism, became entwined with agricultural politics through the formation of Uganda's strongest coffee cooperative union.
Mt. Elgon National Park, Uganda
The Bugisu Cooperative Union was officially formed in 1954 after decades of struggle with British and European authority over control of the coffee on Mt. Elgon—considered Uganda's best by far. During the first decades following formation, the union helped to mobilize and market the coffees from northwestern Mt. Elgon and was considered a strong source of unity for the Bugisu people as well as an economic empowerment engine for the greater native region. From the mid-50s to the mid-90s, as production increased, "Bugisu" became synonymous with top quality coffee from Uganda. Since the wane of cooperative unions nationwide during the 1990s, "Bugisu" has remained a prideful mark of smallholder coffee from the western slope of Mt. Elgon.
Our Uganda-Bujisu beans are organic certified, and go through a Washed process once harvested. We choose to lightly roast these large-bodied beans, bringing out an intoxicating aroma and flavor profile of Cedar & Dark Chocolate. The results create a balanced cup with little acidity and a lasting finish. Sold in 12oz bags, we recommend preparing these in a Pour Over fashion, using a ratio of 25 grams of finely-ground beans to 300 grams of water with a temperature kept slightly below boiling point (~180-~200 degree Fahrenheit). 
Make sure to stop by our weekend Pop-Up Cafe at our Roastery in Kensington, MD! Open 9am-2:30pm, come sample our Uganda-Bujisu, and pick up a bag of our other Single Origin and Signature Blend roasts.