Bump 'n Grind Wax's Version Excursion #1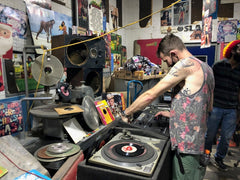 In January, the Bump 'n Grind Wax team, David and Brady, embarked on a remarkable musical quest to the "Land of Wood and Water," the tropical island of Jamaica, where grooves grow plenty! In just a handful of days, David and Brady dove straight into the birthplace of reggae music, connecting with a few of today's torchbearers keeping the vinyl culture alive.
This week's Liner Notes document this quick, but impactful, trip for B 'n G Wax, one that left profound impressions on the importance of music and art as a vessel to navigate the uncertainties and calamities of everyday life. From Kingston, to the coffee-growing communities of the Blue Mountains, and a final reprise on the cliffs overlooking the idyllic Boston Bay in Portland, this 2-part exposé gives a look at how music, in particular the lasting impact of vinyl culture, can create beautiful and inclusive moments transcending difference in colors of skin and depths of a wallet.
On a balmy January 19th evening, just past MLK Day, David flew into Kingston's Norman Manley Airport to meet up with Brady, who had been spending a month in Jamaica enjoying the holidays with family and friends. Prior to the trip, Brady asked David what his main intentions were for this quick exploration of Jamaica. With years of experience traveling and working in Jamaica, Brady knew it was best to have a game plan for this journey. Easily, the whole week could be spent enjoying world-class coffee, dipping our toes in the sand, and soaking in the nourishing sun for the upcoming year. David insisted this become a "work trip" dedicated to the music we love, a Bump 'n Grind Wax Version Excursion! Once it was spoken, it was done. Music was the mission, and there was no better place to be than in Kingston, the birthplace of reggae, dub, ska, roots, and dancehall. 
In the midst of another wave from the on-going pandemic, Jamaica was experiencing an uptick in cases and enforcing an active curfew for residents. Most of the legendary dusk 'til dawn dances that filled the Kingston neighborhoods nightly had been quiet for nearly two years. While we wouldn't be skanking 'til the morning, there would be plenty of music to absorb through the pursuit of records and personalized BnG Wax dubplates.
David and Brady chose to stay in the cool breeze of Jack's Hill, also known as "Reggae Mountain," where the world-renowned "Kingston Dub Club" and Skyline Levels host music nights for locals and international guests. Away from the hustle and bustle of Kingston, the accommodation was a two-bedroom tabernacle nestled below the North Light Guesthouse, perched directly on a hillside with a complete panorama of the Blue Mountain landscape. For David's first night, Brady introduced him to Jamaica's national fruit, ackee, and the Ital diet, the Rastafarian version of a vegan diet. We set up our office on a covered-porch dubbed, "A Slice of Heaven," listening to distant basslines play from backyard sound systems creeping up the hill from Papine – the last district of Kingston before entering the Blue Mountains– in the valley below.  
Come morning, David and Brady rented a 4-wheel drive Suzuki Vitaro for the rest of the trip in New Kingston, the modern commercial district of Jamaica's national city, and set off to Papine to pick up the venerable singer,
Kazam Davis
. A soft-spoken Rasta, upon hearing an inviting riddim coming from the radio, Kazam harmonized a melody as we took off down the dusty Old Hope Rd. 
Once the main promoter for "Vinyl Thursdays," a weekly vinyl-only party in Papine, Kazam shared the difficulties of keeping the show alive, pursuing music as a life-source, and embracing art while raising a family. With the hopes of finding an engineer and studio to record some dubplates – personalized versions of an artist's popular songs– we went straight to the place called by many, "Beat Street," or Orange Street. The historic center of Jamaica's music industry, Orange Street was once littered with record labels, pressing plants, music shops, and studios all agglomerating around the tenements and storefronts lining this thoroughfare that extends from the bustle of the central marketplaces in Downtown Kingston. 
Today, Orange Street remains the home of Rockers International, a record shop in it's sixth or seventh iteration. Owned by the family of Augustus Pablo, the legendary melodica player and dub producer, the store is operated by Mitchie, a friend of the family who has worked since his early teenage years in the different record stores of downtown Kingston. Mitchie holds court in the Rockers International Record Shop daily, where singers and musicians pass through regularly to listen to music, meet wandering music-hungry tourists, and wax poetic about life in Jamaica. The record shop is draped in reggae memorabilia and nostalgia, pictures of past legends and performances, brightly decorated album sleeves, and 45's dangle like chandeliers from the scaffolding, the tiny store cut in half by a large glass-front display counter. Fresh paint dons the facade, revealing a recent fortitude afforded by the global resurgence of vinyl collecting. Mitchie was happy to share his Discogs and Ebay seller pages, encouraging us to keep an eye on the titles that he uploads directly from the shop daily. 
Quickly becoming acquainted with Mitchie, and his singer-friend, Jah Fagan, the five of us sorted through tunes and tossed around the idea of using Mitchie's home studio to record a dubplate in the next couple days. Conveniently, Mitchie was cleaning several hundred original JA press 45s. David and Brady did not hesitate to pick out forgotten classics and hidden gems from the stacks as a studio session  was planned for another foundational personality in Roots Reggae, Prince Alla. Labels like Well Charge, Studio One, Treasure Isle, jumped out of the stacks at Rockers Intl.
Excited by the wide-range of Jamaican music to explore, Mitchie dialed in the heavy roots sound that David and Brady were on the prowl for, serving them up clean like a seasoned-record store manager- spray, wipe, play, repeat. As Mitchie's time was limited by Daddy duties, making a plan to meet up with him in the following days at his home studio, as well as to come back and add to the stack of 100+ 7" records we had acquired in a couple short hours. The team found classics by Dennis Brown, Junior Byles, and Ken Boothe -- without knowing that later a recording session with Ken Boothe would be on the trip's agenda-- one of the few singers for whom Bob Marley sang back-up vocals (Part 2)! 
From Rockers International, David, Brady and Kazam made their way back to North Parade St, walking up the stairs to the remaining relics of Randy's Record Shop. Owned by Randy Chin and his family, Carl "Randy" has been managing the shop for a couple decades. As seen in the popular film, "Rockers," Randy's has long been one of the most popular recording studios and shops in Kingston. Now, what remains is a dusty back room above a hardware shop, where all the former instruments, recording equipment, vinyl pressing stampers, and layers of memorabilia remain organically- fashioned into a living reggae museum.
Still pasted on the side of the 4-track reel-to-reel are the rates for studio time in 1974, where a young Errol Thompson would organize and engineer your tracks. David laid his fingers on the same Hammond organ that helped popularize the rise of reggae globally, hummed a tune on the same microphone where artists like Ken Boothe, Bob Marley, Peter Tosh, Bob Andy, Derrick Harriott, and many more sang as ripe teenagers looking to make an impact on history. Without fanfare, Randy's remains in Downtown Kingston, ready for the unsuspecting music fan to stumble into this treasure trove of history and nostalgia, a place that shaped the identity of Caribbean music for the rest of the 20th Century and beyond...
Spirits high from a successful first stop, Kazam, David, and Brady went three doors down from Rockers International for a bite to eat at the popular Ibo Spice Portal. A big tenement yard on Orange Street, one walks through a discreet, unsuspecting passageway and enters into an aroma-filled yard of incense, burning coal, and wholesome food being roasted, peeled, and prepared by two genuine and purpose-filed humans, Ibo and Gravity. Their daily mission is to provide healthy Ital food - no meat, no salt, no chemicals, no preservatives–  to the residents of Downtown Kingston and beyond. Their shop reflects the deep flow of their spirituality attached to the Rastafarian faith, one fueled by a drive to provide self-awareness, social reliance, and justice for their communities. 
As Kazam introduced us to Gravity and Ibo, we ordered fresh slices of pumpkin cake and two bottles of Purple Irish Moss, a viscous seaweed drink that brings tremendous health benefits. A steady recording of Nyabinghi drums created a rhythmic trance in the plant-covered shade of the courtyard. A few couples found benches and tables to camp, while Ibo, the stoic chef, and Gravity, the personable front-of-house, orchestrated the settings. The energy fueling this modest two-person operation, one dedicated every day to creating a vibe and lasting-impression, is creating global waves for their righteous food and message. 
These locations in Kingston are often regarded by foreign embassies and tourist boards as dangerous. Despite these barriers, Ibo Spice and Rockers International are working hard to make educational and inclusive spaces for both Jamaicans and International guests alike.  As we parted ways from Downtown Kingston, and dropped off Kazam with the intentions of linking up again in the near future at a Studio, David and Brady spent the rest of the evening scouring Youtube for decent versions of the records they just bought, and enjoying a peaceful dinner in the cool night on our "Slice of Heaven."
'Twas a successful first day on BnG Wax's first ever "Version Excursion!" Next week, the second part of this travel photo/essay shares the BnG Wax trek to the Blue Mountains to play tunes in Hagley Gap square, buy records, and spread peace and love!